Thorsborne Trail, Hinchinbrook Island
The Ultimate Guide to Hiking the Thorsborne Trail on Hinchinbrook Island National Park (Munamudanamy)
Hiking the Thorsborne Trail on Hinchinbrook Island (Pouandai)- Blog by Bec and Sean Conroy from Look The World In The Eye. Hiking the Thorsborne Trail is absolutely stunning and is packed with a huge amount of beauty over it's 32km. Think crystal clear pools, epic views, waterfalls and wildlife – you won't be disappointed! Read on for their guide on everything you need to know about hiking and enjoying the Thorsborne Trail!
Four epic days, 32km, and an adventure of a lifetime hiking the Thorsborne Trail. Click here to book your camping permits and return ferry transfer with Hinchinbrook Island Cruises
Day 1: Cardwell → Ramsay Bay → Little Ramsay Bay (6.5 km)
Our day begun in Cardwell. We'd stayed at the Meunga Caravan park the night before (at $8 a night per person with plenty of space, clean facilities and hot showers we highly recommend this spot!) so we just had a short drive to the Port Hinchinbrook public boat ramp. We got our packs out of the van at the neighbouring long term carpark, did a final check of our gear (yes we had 4 days worth of peanut butter sandwiches) and we were off!
Brad from Hinchinbrook Island Cruises met us and a few others who were headed to the island with him also at the car park at 6:45am and we headed to the boat. From there it was probably 60 minutes, we stopped a couple of times for Brad to point out some landmarks and give us some history of the island which was awesome. We also saw a huge tuna jumping at a bait ball on the ride over which was very impressive.
Once we arrived at Ramsay Bay, Brad got us all to put on some insect repellant as the sandflies can apparently be pretty bad here. We jumped out of the boat, got our obligatory photos at the start of the hike next to the national park sign and we were off!
First up we cruised along Ramsay Bay towards Nina Peak (that high point close to the water in the photo above). At the end of Ramsay Bay we cut into the trees and walked through dense rainforest where we were surrounded by hundreds of butterflies!
We followed the path (and the very obvious and frequent orange arrow markers) until we got to a clearing that had a path climbing off to the right, next to a fairly obvious large space to leave our bags. This side path was to Nina Peak, something we definitely didn't want to miss.
The Nina Peak side trip was short but steep, it was only roughly a km return but packed a punch in vertical gain, definitely worth leaving your pack at the bottom!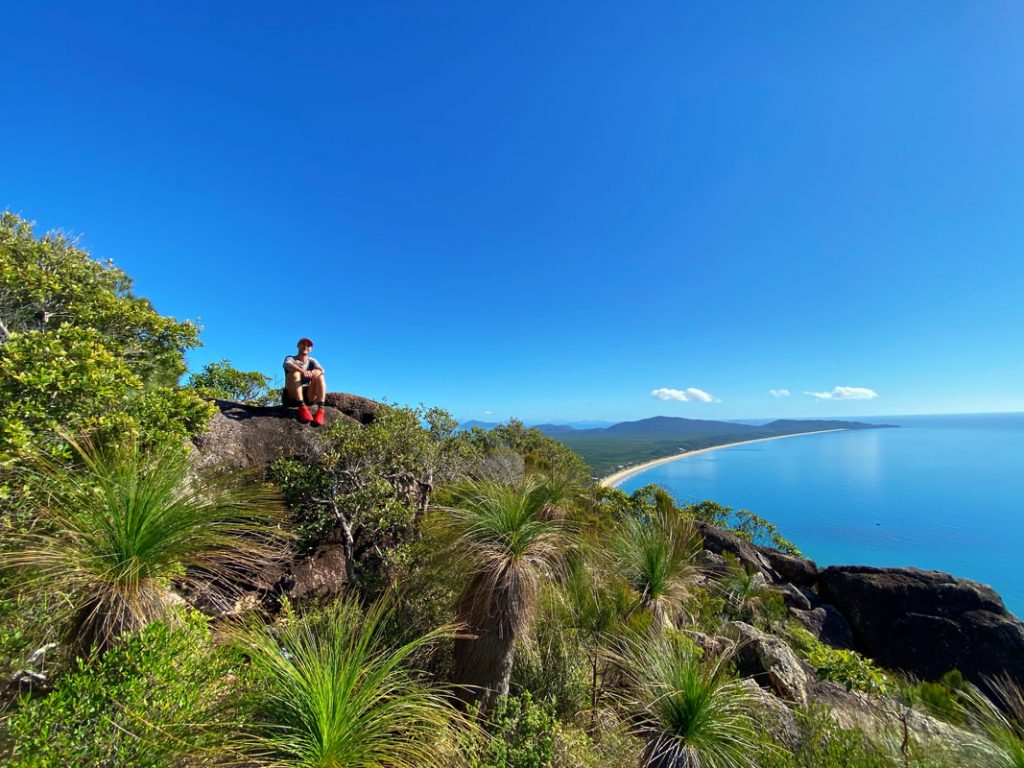 After Nina Peak we hiked onwards to Nina Bay, and then Boulder Bay – aptly named due to the large amount of boulders you need to hop over.
For those who want to take the hike a little slower and stay for more days there is a campground located at Nina Bay.
From Boulder Bay we headed onwards to Little Ramsay Bay, the beach that night #1's camp ground was located on.
Once we arrived at the campground we picked our spot, pitched our tent and hung our bags up on the pack racks. These pack racks are installed for everyone to use so that your bags are off the ground. The island is inhabited with native bush rats that will chew through your bag or tent (or anything!) if there is food inside, so save yourself the hassle (and cost) of having your equipment nibbled at and hang your gear up.
Little Ramsay Bay has a large lagoon next to the campground and although it may look inviting, do not be tempted to swim there as it is home to a saltwater crocodile. There is a clear warning sign letting you know to steer clear of the area.
You will however need to hike up Warrawilla Creek, which feeds into the lagoon to refill your water stores. (Head roughly 50m upstream for fresh water)
It was nice to rinse ourselves up here also, there is something about fresh water that always feels good on the skin!
Day 2: Little Ramsay Bay → Zoe Bay (10.5 km)
Day 2 we rose nice and early to watch the sunrise, no need for alarms, the birds and light outside will let you know that it's morning time.
After a breakfast of nut & seed porridge (as always) and coffee we packed up our stuff and headed off around 8:30. We wanted to get moving somewhat early so that we'd reach the South Zoe camping area nice and early so we could head up to the falls and get the afternoon there.
Only a short way into the days trip there is a side trip to Banksia Bay. It's only 600m return and worth it if you'd like to check out the yellow native orchids that grow in the area.
Banksia Bay is also a campground for those that skipped Little Ramsay. There is not another hikers campground until South Zoe after this one. Although there are other campgrounds on the island they can be used by sea kayakers or boaters only.
To be completely honest, this was the least enjoyable day of hiking. Although it was only just over 10km, there were multiple creek crossings (always best crossed at low tide due to crocs), long stretches of swampy mangrove areas (think shin deep in mud in croc country) and thorny vines that were pretty good at getting caught on your hat, shirt and pack. Hence we were happy to get to the campground at the end of Zoe Bay. Don't get me wrong, it wasn't terrible, but of the 4 days, this day felt the most like a slog! It took us around 3 hours.
Roughly 1 km past the Sth Zoe Bay campground is Zoe Falls, and it makes the days hike totally worth it. At the base of the falls is a huge crystal clear blue pool that you can swim in (no crocs here!). It is divine, and just what was needed after a couple of hours hike. ​
The trail continues up to the top of the falls where there is an infinity pool overlooking the falls and beaches below. If you get there early in the day you can have it completely to yourself. It was pretty special!
The Falls and these pools are a huge deciding factor for why some people decide to take an extra night at Sth Zoe campground on the hike, and then spend a whole day relaxing here. As we were at the Falls by midday we were totally satisfied with our afternoon in the sun, but can understand why people choose to break the trip up!
Day 3: Zoe Bay → Mulligans Falls (7.5 km)
Again we rose bright and early to watch the sunrise whilst enjoying breakfast. We packed our gear up and headed off earlyish again to get to Mulligans Falls for the afternoon.
The trail climbs past Zoe Falls, and the infinity pool up the top – so if you didn't get to visit these the day before now is your time to stop and enjoy the view!
It then carries along through high grass either side for a few km before reaching the highest point on the trail. The trail then begins to descend to Mulligans Falls and on a clear day there are some pretty awesome views along the descent!
Once we reached our campground at Mulligans falls we again set up our tent, hung up our packs, jumped into our swimmers and headed for the falls. Another huge pool awaited us along with another beautiful waterfall.
Day 4: Mulligans Falls → George Point (7.5 km)
Out last day on the trail begun with a cold swim in the pool along with some warm porridge and hot coffee.
​Our pick up time with Brad at George Point was 12:30 and as there was only 7.5km to walk we didn't need to leave too early.
We packed up our tent and gear for the final time and headed to Mulligan Bay. Once you hit the beach the rest of the kilometres for the day are along the sand, making for a very easy final day.
There is a tidal creek that again, due to crocodiles, (and just the desire to not get wet hoofs) should be crossed at as low a tide as is possible.
Across the creek Seany spotted a coconut tree, and after not finding any large enough on our prior few days walking he was very happy to find and drink a couple.
We carried on to George Point and waited for Brad to pick us up. Stoked on an epic few days hiking on an incredible and for the most part, untouched landscape.