Hiking the Thorsborne Trail
Take the experience of a lifetime in Tropical North Queensland. Hiking the Thorsborne Trail is world renowned as one of the top 10 hikes on the planet!
The 32km Thorsborne Trail, along Hinchinbrook Island's east coast, is named after the late Arthur Thorsborne.
Arthur and his wife, Margaret, shared a lifelong interest in nature conservation that included monitoring pied (Torresian) imperial-pigeons Ducula bicolor, which migrate to nest on local islands in summer.
The trail is not a graded or hardened walking track and, in some areas, is rough and difficult to traverse. It is managed under the minimal impact bushwalking and no-trace camping ethics. To help minimise impact and to maintain the wilderness setting, permits are issued for a maximum of 40 people on the trail at any one time. The largest group size is six.
For more information about the Thorsborne Trail, click here to visit the Queensland Government Parks and Wildlife website.
Before you leave home check the park alerts for the latest information on access, closures and conditions affecting the Thorsborne Trail.
Click here to book your Hinchinbrook Island (Thorsborne Trail) camping permit.
Click here to download the Thorsborne Trail map (PDF).
Excerpt above from https://parks.des.qld.gov.au/
COMPLETE ROUND TRIP RETURN TRANSFER – THORSBORNE TRAIL $185 PER PERSON.
Our tours and transfers depart and return to Hinchinbrook Harbour Cardwell!
Hinchinbrook Island Cruises transfers to and from the Thorsborne Trail by ferry so you can enjoy the leisurely trip back along the Hinchinbrook Channel. Our vessels are crewed by experienced skippers with a wealth of marine & local knowledge to make your time on the water truly memorable.
DEPARTING DAILY – BOOKINGS ESSSENTIAL
Most hikers walk the Thorsborne Trail North to South (Ramsay Bay to George Point). Hiking North to South allows for the abundance of available fresh water from the southern creek crossings. There is less available fresh creek water along the northern sections of the Thorsborne trail during dry periods when rainfall is low.
Transfers are early AM so you pack in a full first day
Do you require a Personal Locator Beacon (PLB) or Butane Gas? Add these items to your booking form.
Secure "lock up" vehicle storage available. Easy access, adjacent to our departure point at Hinchinbrook Harbour.
FREE long term car parking close to departure point. See Map.
FREE excess baggage storage with any booking with Hinchinbrook Island Cruises.
Just book online and Hinchinbrook Island Cruises will do the rest!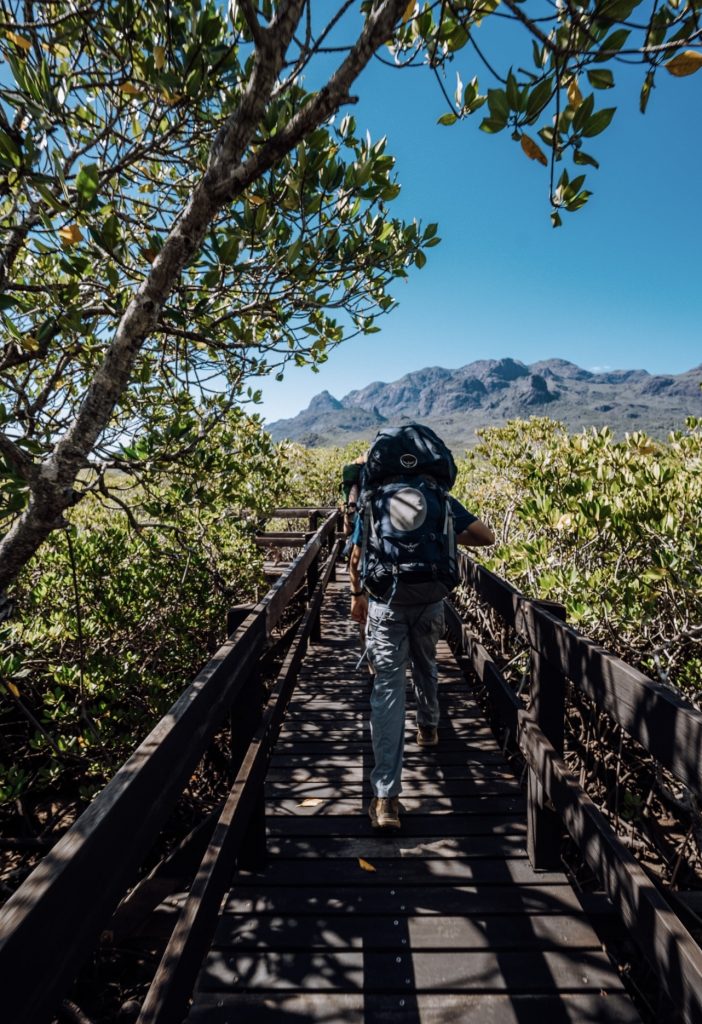 We stock the gear you need for hiking the Thorsborne Trail.
NOW available for purchase – RADIX Freeze Dried Food.
Choose a 3 day package $120 (ideal for hiking the Thorsborne Trail) or 1 day $40 depending on your stay period.
Plant Based Meals OR Organic Beef, Grass fed Lamb. Day packs with breakfast Mixed berry or Apple/Cinnamon/Tumeric
Choose your food package and add to your payment.
Personal Locator Beacons (PLB)* available for hire! $30
Safety is our main priority at Hinchinbrook Island Cruises.
Affordable. Lightweight. Safety. Peace of Mind.
For more information and to hire your KTi SA2G PLB – add hire to your booking form.
"Personal Locator Beacons are lifesaving devices that all hikers and bush walkers should have."
Butane Gas 230g available to purchase $10
For your convenience if flying into North Queensland as you cannot carry gas on flights.
Add purchase to your booking form.
Camping Stove available to hire $10
We also hire backpacks, light weight tents and other camping gear. Include your requirements on the booking form and we will organise for you.